Canadian Cycling 2011 Buyers Guide: Vitess – one of only 4 "high end" road bikes profiled
16.03.11
We are absolutely thrilled to have been selected by Canada's largest bicycle print publication for inclusion in their 2011 Buyers Guide – now on the coffee table of tens of thousands of subscribers and in stands around the country.
Their Buyers Guide is part of the April/May edition and it is very interesting and unique because it is not an exhaustive list of all the bikes available on the Canadian market, but rather an hand-picked selection of what their team thought was worthy of being profiled to their readers and the cycling community at large.
Vitess is featured as one of only 4 bike manufacturers showcased in the "High End" product category; alongside Bianchi with their latest Oltre, Scott with their race-proven Addict series and Kuota with their latest Tour-de-France ready machine KOM Evo.
125 years after its birth, Italian high-performance bicycle manufacturer Bianchi is still going strong and the Oltre is their new top-end bike. At $12,499 equipped with Super Record 11 and Fulcrum Racing Speed XLR wheels, the celeste-painted bike looks sharp and will surely please Bianchi's fans.
The Scott Addict has been setting benchmarks in both bicycle technology and race results over the last few years. The RC version profiled in the Buyers Guide is the company's top end bike and has already spent much time in front of cameras around the world. At $8,499 equipped with Dura-Ace and Mavic Ksyrium SL wheels, it is race-ready.
When one thinks of Kuota, Pro Cycling Team AG2R La Mondiale is probably what comes to mind. The team came 4th in team ranking at the 2011 Tour-de-France, a testament to the build quality of their KOM frame-set. With SRAM Red and DT Swiss 1900 wheels, pricing is at $6,600.
Four "superlight dream bikes" (Canadian Cycling), one common challenge: keep the weight above UCI limit.
Our guess is that the four bikes fail at this test…we know for sure that the Vitess does. But having to add weight to your bike is always easier than to remove some; so no worries there.
This Buyers Guide is much more product-centric than most of the publications that reported on Vitess so far. Given the calibre of the 3 other bike companies profiled, and perhaps as importantly those of all the companies that are not profiled, this is extremely rewarding.
Over the last year, publications have celebrated our approach to building an experience second to none when it comes to bike purchase and ownership experience. This time around the praise of Vitess was based on product attributes and one of our bikes was hand-picked and included in a group of only 4.
Are we happy about that? Of course.
Are we surprised about their choice? Not really: building a world-class rider experience can only be grounded in an excellent product. And we feel rather strongly about the dynamics and ride characteristics of our bikes – our riders talk about it all the time.
The Vitess showcased is a Dark-Knight equipped with Dura-Ace 7900, an Ultimate Rider Interface and a pair of Lightweight Standard Clinchers. A very nice side shot of the bike is included in the Buyers Guide, as is a very detailed description of what Vitess and this specific bike are about.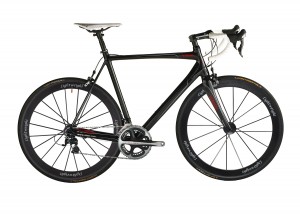 The 2011 Toronto Bicycle Show last week showed us that the cycling community has taken notice of Vitess and that the brand has great traction.
The mass media channels have taken notice (see Toronto Star, Globe & Mail, Toronto's NewsTalk1010 among many others) and provided much details about the vision behind the brand and what it means to be a Vitess Rider.
The bike-related media channels are now taking a very special look at what is happening with Vitess and our community of riders. Web-leader Canadian Cyclist issued a very positive report and outlook on the way we are doing things. Our bikes are now being analyzed, tested and reported on by Canadian Cycling.
This makes for a very strong start of the 2011 season! Many thanks to the team at Canadian Cycling: not an easy decision to hand-pick a new comer with such strong brand differentiation. But they did it and it certainly talks very highly of their focus on providing very valuable information to their readership.