Former Canadian Pro Cyclist goes custom with Vitess, and with pride
20.10.11
Former Canadian professional cyclist and
Canadian Cycling Association
Board Member Steve Rover is as passionate as it comes. Whether that is in a board meeting at the CCA, running his beloved Lac-Megantic (QC) Canadian Tire store or on the saddle of his Vitess, Steve sees and wants big – and he gets it.
Here is the story of a world-class athlete turned successful business and well-regarded community leader. When he turned to Vitess, he wanted a top-notch custom road bike. What he got is something very special – a very clear and visual expression of two of his passions: cycling and entrepreneurship.
From pro-athlete to businessman, the reconversion is not always easy and straight forward. In the case of Steve, entrepreneurial drive and over-achievement is deeply rooted in his genes.
When he retired from French pro team Groupe Sportif Mutuelle de Seine et Marne in December 1998 after having raced over 200 worldwide events – including 2 World Cups: Paris-Roubaix and Paris-Tour, and having being part of the team win at the 1998 Tour of Serbia, he engaged with Women's Pro Cycling Team Elita as their Directeur Sportif: surely transitioning from being an athlete to an athlete motivator and leader. The result: Elita won the Grand Prix des Ameriques in Sutton (QC) in 2000.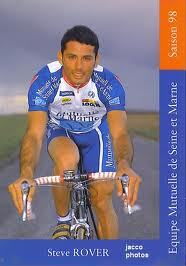 Before becoming a pro cyclist and expatriating himself to Europe, Steve was no stranger to the Canadian cycling scene. As early as 1990 and 1991, he was already Canadian Junior Road Cycling Champion. He represented Canada in the '93, '94 and '96 World Championship, he finished third overall and Best Young Rider in the Circuit Franco-Belge in 1994, fourth the following year. In the '96 "baby Tour de France" Tour de l'Avenir, Steve finished fourth overall and was distinguished with the Most Combative rider award. In 1996, he was Canada's National Professional Road Cycling Champion.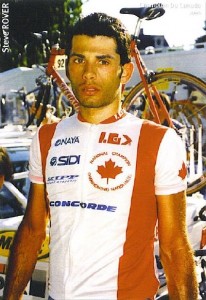 Steve knows three things extremely well: commitment, hard work and result. From a very young age, as he spent 6 years as member of the Canadian National Road Cycling team, he decided to relocate himself to France 6 months per year to maintain his training regimen year around. Nothing would stop him from achieving his goal of becoming a Pro. He did it.
From Pro Cycling to Business, Steve has managed his professional life transition extremely well. Many years were spent understanding and learning how to manage a service-based enterprise and a team of employees in a highly competitive space. After 9 years of hospitality-based franchise operations, it was time for Steve to look for something else: different, more challenging, bigger. He is currently the owner of a Canadian Tire franchise in Lac-Megantic, Quebec.
Cycling is still very much present in his daily activities – time is spent advising on and supporting major initiatives at the CCA, time is also spent on the saddle, enjoying the gorgeous Quebec backcountry roads. So when it came to choosing his next bike, he asked his friend and fellow CCA Board Member Yannick Archambault what he thought of the custom bike he got delivered late 2009… a Vitess.
Freezing the component spec of Steve's Vitess was not difficult – he knew what he was looking for: no less than Dura-Ace, a good pair of wheels and a carbon-grade rider interface. What took (much) more time, work and concentration was related to visuals.
Here was the initial idea: "can we brand my Vitess with my other passion – my Canadian Tire store, without directly referring to it? Oh, and I loved what Evian had done on our team bikes back in France in 1997 – a super subtle but powerful brand reference, right on the top-tube – the famous mountain snowy peaks".
After much back and forth between Steve, Vitess' Creative Director and the branding people at Canadian Tire Headquarters – this is what we came up with: a set a very subtle brand visual references – red and green colours, green maple leaf and of course a clear reference to the Lac-Megantic store location. Steve took delivery earlier this summer. He loves it, both functionally and visually. It is very special.
Have a passion, something that you feel very strongly about, a facet of your personality that you would like your Vitess to portray, give us a call! This is our custom artwork program. Imagine it and together we'll make it happen.
Steve's Vitess below: