From size XXL to National-level racing: cycling changes lives
20.03.12
On June 28th 2011, Vitess Rider Mark Buckaway finished 23rd of the Canadian Nationals Masters Time-trial. Just 4 years earlier, at "265 lbs with high cholesterol rating", Mark's life trajectory was not necessarily pointed to a bicycle racing podium or a climb of Mont-Ventoux.
It took a life changing event, a huge amount of dedication and effort, and the belief that he could do something about heart disease.
This is Mark's cycling journey through life. And his call to action.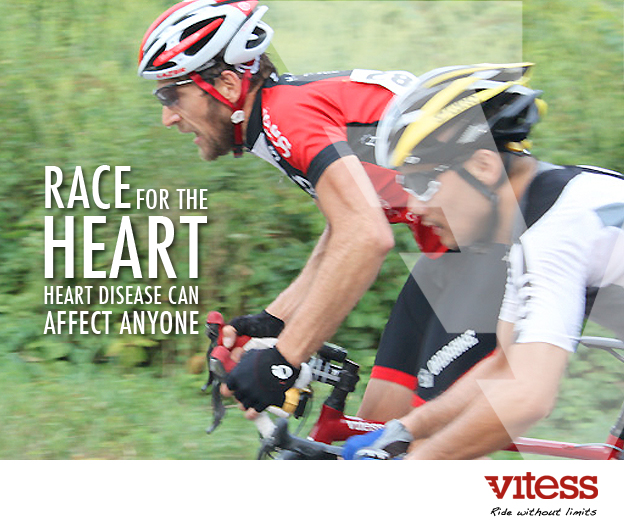 Written by Vitess Rider Mark Buckaway
Toronto, March 2012
Heart disease can affect anyone. This is my story of how someone with heart disease affected me.
It was late in the day in October 2007, when I heard the phone ring. My wife answered it. I had a strange feeling it was not good news when the phone rang. You know the feeling you get when something is about to happen? A thought had crossed my mind: our friend Rick passed away. When my wife got off the phone, she confirmed my thought. I do not know why I knew, but I did. It turned out that my friend, Rick Sargent died of a heart attack. The building superintendent found him at the elevator of his apartment building. His wife and daughter were upstairs in their apartment.
Rick was a jovial guy. He loved fishing (read: lived for fishing) and photography. You could always count on him for a good laugh. I do not know how many used camera's I bought from him. I used to joke with him every time he bought a new camera, that it would be mine soon enough. Rick's only vice was his love for food. Rick was 48 when he died. He left behind his wife of 17 years and his teenage daughter. I can still remember his funeral and having to look down into the casket at a man that went well before his time. It was the first time that heart disease felt like something that could affect me too. It left a powerful impression with me.
The day of Rick's funeral was a moment of truth for me, because it scared me. I was 265lbs with a high cholesterol rating. I had gained 25lbs over what seemed like six months. I had moved up from size XL to XXL clothes. I was working at a job in Oakville and commuted by car from my home in Scarborough. It was a 65km trip one way. This meant that I was sitting down a lot and not getting any exercise. The only exercise I got was lifting the TV remote control. On top of that, add my need to munch during my work day (pack of cookies anyone?), and I felt I was heading for the same fate as Rick. I had been warned by my doctor to lose the weight but did not believe I was in any danger. I realized at Ricks' funeral, that if I did not change, it was highly likely my family would be attending my funeral. I could not let that happen. I needed to change.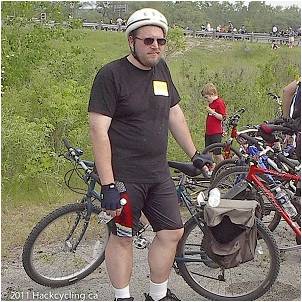 I had always ridden a bike since I was a kid. I used to ride to work and back as a way to save money when my kids were young. I had done the 25km route of the Ride for Heart in 2005 – not an easy ride for someone overweight (see photo above). However, I had not been on a bike in years. I had never thought of racing. But, I figured a bike would be a way back to a reasonable size and weight. On the advice of my friend, Ron, in February of 2008, I bought a bike trainer that fit my mountain bike, and I started riding five days per week for 20 minutes each morning – that was a hard ride. That was how the cycling "bug" started.
Later in the year, I upgraded the mountain bike to a hybrid bike and soon took to the road outside. I got up every weekday morning to ride around the neighbourhood. I was so impressed with myself when I did an 8km ride and managed to tackle a few "hills". Now, I look at those hills as bumps in the road. It wasn't long before I was riding longer. 15km. 30km. 50km. I was getting stronger and healthier. I changed my diet at the same time and started to eat better food. It was working! I was losing weight and feeling better. The rides got longer. By the fall of 2008, I was riding weekends with my buddy, Ron. In December 2008, I bought my first road bike. I got the idea of racing in my head from Ron. So, I took my new bike and showed up at the D'Ornellas Fitness Factory to start spinning classes in January 2009. The club president said, "No one joins a bike club in January". But, I did. I was determined.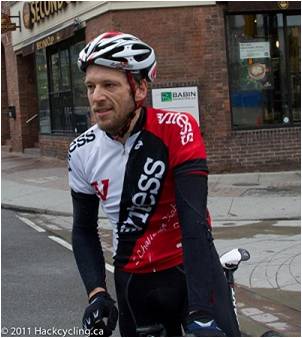 Two weeks later, I had a coach and I was going to the gym to do weights. My weight dropped to below 220lbs. I was getting stronger. I was riding with the D'Ornellas club. I did my first century ride that summer. I was taking race training with the Midweek Cycling Club and started doing the Midweek Criterium race. I can still remember the first time I did the "B" race at the Criterium. After 40 minutes of racing, my lungs hurt so much I couldn't move for 20 minutes. It was the hardest thing I had ever done. Oddly, it was that winter when I was introduced to the Donut Ride. It was a while before I could keep up with the pack. I spent 2010 improving my fitness. In October 2011, I road in France and climbed Mt. Ventoux. In 2011, I raced the OCA circuit, and did the Midweek Crit and Midweek Time Trial weekly.
In 2011, I did the Ride for Heart again. It is what I now call Race for Heart. I did the 75km route in under 2 hours and averaged some 38km/h. I was almost first to finish line. This was a far cry years past where I struggled to the finish the 25km route in under 2 hours while stopping every 20 minutes to catch my breath.
I wish my friend, Mr. Rick Sargent was still with us; however, in his death, he motivated me to ride my bike and get in shape. Today, I am 185lbs. I own some six bikes. I race the Ontario Cup circuit in the summer and I race the Forest City Velodrome in London, ON through the winter.
Thank you, Rick, for getting me moving and motivating me to build a healthy lifestyle. Without Rick, I would not be the person I am today. I am having the most fun I am having in years. Today, I ride in the memory of Rick.
This year I am a VIP at the Race for Heart. I have committed to raising at least $1000. I need YOUR help to reach my goal if I am to get there. This year, of the 1000′s of riders that do the ride, I hope to be the first one to cross the finish line. With your help, you can help me get there and honour my memory of Rick. Your donation will help fund Heart and Stroke Research, and help them promote awareness to people like me. Without them, I would not have been able to be where I am today. Fitter, healthier, and happier. Please follow the link below and contribute to the Heart and Stroke Foundation.
Please click on the DONATE TO ME button below.