Cleveland Clinic Canada and Vitess Bicycle Corporation unveil collaboration to make Canadians healthier and faster
07.06.12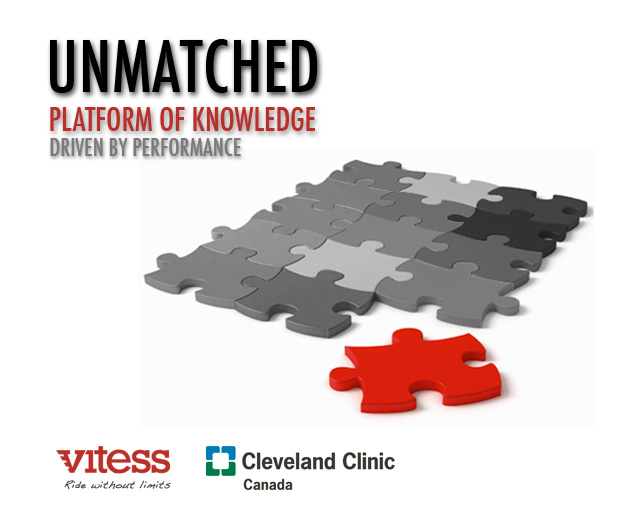 Please see below our inaugural communication. Click here and send us an email to be added to our VIP mailing list and stay informed.
Cleveland Clinic Canada and Vitess Bicycle Corporation unveil collaboration to make Canadians healthier and faster
Cleveland Clinic Canada and Vitess Bicycle Corporation are working together to combine their world-class expertise and equipment to help elevate the cycling experience of men and women driven by performance.
This revolutionary collaboration will merge second-to-none healthcare and cycling knowledge to create an unmatched platform of support to the fast growing cycling community.
Cleveland Clinic Canada is the Canadian arm of Cleveland Clinic, which is currently regarded as one of the top four hospitals in the United States and has been ranked number one in cardiac care for the past 17 years. Cleveland Clinic's model of care has been designed to provide patients with what they really want: a high-quality, convenient healthcare experience.
Vitess Bicycle Corporation is the fastest growing premium cycling brand in Canada. Ranked one of the four best high-end bikes in Canada by Canadian Cycling in 2011, Vitess has garnered much national media coverage through its innovative approach to merging state-of-the art technology and product design with unequalled service level.
The relationship will kick off during the après-ride of Vitess' Gran Allenamento in Oakville on June 16th – one of two invitation-only cycling lifestyle events produced by Vitess in 2012. Clinical staff from Cleveland Clinic Canada will take part in the après-ride's Speaker Series and the two companies will debut a co-branded cycling performance package.
"An active lifestyle is the foundation of good health. It's about using body and mind to their full potential, whether that is in the boardroom or in the saddle. It is also the starting point of something bigger: whether your focus is recreational or high-performance, pushing yourself to reach new goals and celebrate those achievements is a state of mind. Good health is more than a status, it is a lifestyle" says Meegan Guest, Cleveland Clinic Canada's Director of Marketing & Communication.
"Vitess embodies what the cycling lifestyle is all about and we are extremely pleased to work with such an exclusive cycling brand and craft unique experiences for this growing community" Guest adds.
"Cleveland Clinic Canada and Vitess share the same vision: take a pro-active and integrative approach to helping and empowering men and women take control and push the boundaries of what they think is possible" comments Julien Papon, Vitess Founder.
"It is an absolute privilege to work with one of the best health care providers in the world and to collaboratively develop a novel model around a simple idea: how to help discerning individuals reach new targets of performance" Papon adds.
"To truly maximize one's physical performance, you need to look at the bigger picture of your health. Good nutrition, regular health screening and mental wellness are as important as proper training and gear" suggests Mike Kessel, President & CEO of Cleveland Clinic Canada. "The approach that Vitess has taken to build a formidable cycling experience is very similar to ours: each individual has unique needs that must be understood before a solution is developed – it's about delivering unequalled quality and performance through one-on-one personal consultative work and bespoke solutions" Kessel adds.
Whether cyclists are contemplating their first charity ride, wanting to explore cycling as part of their active lifestyle or planning this Alpes d'Huez climb that they have been dreaming of for a while; it's about having the right tools, knowledge and support to turn aspirations into great achievements.
The two companies are bringing together a multi-disciplinary team of physicians, wellness experts, engineers and bicycle fitting experts who will work together to craft a bespoke experience for cyclists of all riding abilities. It is an unmatched platform of knowledge and expertise, deeply clinical and technical in nature, that discerning individuals will be able to leverage to reach their goals.
In the coming months, the two partners will introduce new and innovative ways to empower cyclists and provide them the tools they need to enhance their cycling experience and reach new heights.
About Cleveland Clinic Canada
Located in the heart of downtown Toronto, Cleveland Clinic Canada delivers world class healthcare to Canadian patients, a foundation built by Cleveland Clinic. As a leading Academic Medical Centre, Cleveland Clinic has been consistently ranked among America's top four hospitals and number one in cardiac care for the past 17 years. Cleveland Clinic has garnered global recognition by pioneering many medical breakthroughs including the first coronary artery bypass. These extraordinary credentials along with our passion for our patients have generated a high level of demand for our advanced model of care.
Cleveland Clinic Canada is an outpatient clinic that incorporates the latest technology with innovative clinical wellness programming to provide Canadians with a high-quality and convenient healthcare experience. They are committed to making healthcare easy for patients so they can spend more time doing what they love and less time searching for answers.
Learn more at www.clevelandclinic.ca.
About Vitess Bicycle Corporation
Toronto-based Vitess Bicycle Corporation has been delighting discerning cyclists with a formidable cycling experience since 2009. Riders of all riding abilities, from novice to former professional cyclists have worked with our team of experts to custom fit, paint and build their high-performance bicycles to match their performance goals while guaranteeing comfort and matching their unique personality. Riding a Vitess is about making a statement; it's about individuality, self confidence and exclusivity. It's when only the best of quality matters.
Ranked one of the 4 best high-end bikes in Canada by Canadian Cycling in 2011, Vitess has garnered much media coverage including from the Globe & Mail, the Toronto Star, Audi Magazine, Canadian Cyclist, NewsTalk1010 and many other leading media channels. Vitess Founder Julien Papon, a former automotive executive, serves on the Board of Directors of the Ontario Cycling Association.
Learn more at www.vitess.com.