Riding is supposed to be fun
01.06.12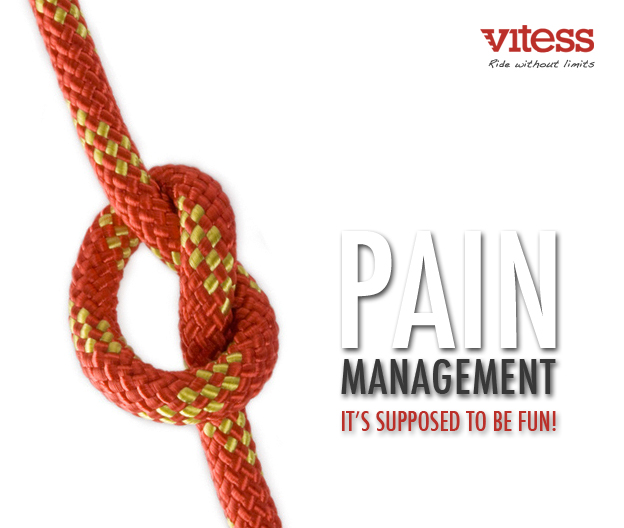 Riding is supposed to be fun. When Vitess Rider Sajid Syed came to Vitess 2 years ago, that was most certainly the last chance he was giving to cycling.
After 3 years of excruciating back pain, much time and money spent on trying to figure out what to do about it, he was "quite frustrated and very close to throwing [his] bike in the ditch and walking away from the sport for good."
Our integrative approach to proper body positioning and bike set-up based on muscular ranges of motion and physiological needs, and our collaborative work with medical professionals surrounding Sajid successfully brought him back on the saddle and he seems that he's now enjoying every minute of it.
Proper bicycle fitting is not reserved for the Pros. It is not a matter of winning races, it is a matter of having fun, feeling good and upping our own individual performance on the bike.
And it's not about the bike, it's about you.
Sajid is the owner of two highly successful dental practices, Dentistry Dunnville in Dunnville (ON) and Monarch Dentistry in St. Catherine (ON).
Want to know more how we can help you, call us at 416.503.8987. You can also check out the details of our traditional Fit & Learn session here – this is not reserved for Vitess Riders, every cyclist is welcome at our fitting studio.
Here's Sajid story.
Written by Vitess Rider Sajid Syed
St-Catherine (ON), May 2012
Growing up in India I rode bicycles every day, it was and still is the most common means of transportation over short distances. After high school I moved to Cairo and then Canada for education and lost touch with the sport.
Five years ago my wife and I decided to get back into it, something we can do together for fun and help us get out during the summer days. So we picked up a couple of Norco mountain bikes. I remember the first time we got out; I instantly fell in love with the sport. The problem then was I started leaving my wife behind every time we got out riding, which didn't go over very well. So I decided to pick up a road bike, that way I could get out at my pace and go with her at her pace on the Norco. At that point in time I had no idea what I had in store for me with my road bike.
The process of selecting a bike was simple, I looked at the biggest name in cycling which was and still is Lance Armstrong! Naturally the next question was: what does he ride? Long story short, I picked up my first Aluminium Trek, I wasn't sure if I would like it or not so it was a starter bike.
The salesman at the store took ten minutes to fit me on it, gave me a heads up that they get it right 80% of the time which seemed reasonable cause nothing is perfect in life. The day finally came, I suited up and got out on my new bike on my first 13kms and I looked good and felt great, except for a little soreness in my lower back, I figured it was just because it was my first time.
Three years went by and I spent the first two riding with back pain which was crippling after the first 30kms, where I would have to get off the saddle while riding and stretch every ten minutes just to stay comfortable.
I had been back to the bike shop a couple of times during these two years, where they made adjustments which helped a little but not a lot and at that point in time they also started treating me like that rash that just won't go away no matter what you do to it.
I consulted a different bike store about my fit where they gave me a new saddle and a new stem. Again it helped a little but not a lot, the problems I was having came back again.
The next step, I saw a bike fit specialist who checked my flexibility and recommended a chiropractor after making a few adjustments to my fit again. I did as I was told, saw a chiropractor and surprise surprise I was still having problems.
I had put around 4000kms at this point on my Trek with back pain, my longest ride being 130kms. I was quite frustrated and very close to throwing my bike in the ditch and walking away from the sport for good.
It was then that my colleague told me about a new showroom that had opened up in Toronto, it was called Vitess and they made custom bikes. I went to the website and saw two words that got my attention, they were 'Perfect fit', Julien claimed (and still does) this is the most important thing and still does on his website and that was exactly what I was looking for and also a new bike, I thought why the hell not!
Fast forward another year, after everything I had been through and a million questions in emails back and forth to Julien (frankly its shocking he doesn't avoid me like the plague!), I placed my order for my Vitess.
The day came when it was time to fit me on the bike and Julien took FOUR HOURS to do it, compared to my fitting on my Trek which took ten minutes.
I got my bike and last year I had no pain whatsoever for the first time ever and with a little fine tuning and some self diagnosis and physiotherapy on my part, this year I am extremely comfortable on my Vitess, I look forward to getting out on rides and the fit is, as Julien promised, PERFECT!!
As for the product, I love my Vitess, it is fast, responsive and it's MY bike, made for me alone, I am looking forward to lots of riding and getting faster on my Vitess, let's face it, it translates into speed!!! I don't have a choice. I wish I had gone to Julien at the very beginning, but in my defense, Vitess wasn't around when I was looking!! Any riders out there with fit issues, Julien is your man!