Join us at Brookfield Place
11.07.12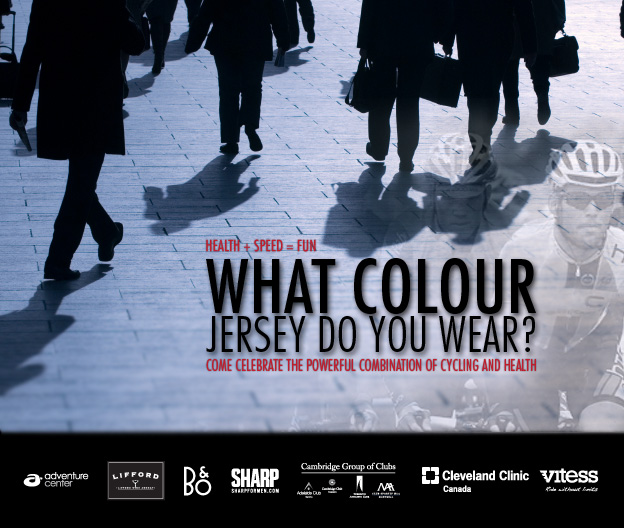 What colour jersey do you wear?
In a sea of black suits, every passionate cycling enthusiast has a hidden jersey underneath. A pride inside that says I'm the King of the Mountains or the Tour Leader.
Introducing Health + Speed = Fun, a one-of-the kind event that only 2 creative powerhouses could come up with. Vitess has joined forces with Cleveland Clinic Canada to celebrate the art of cycling and share expert health information to help you perform better in the saddle…and also in the boardroom.
The quintessential pro cycling event: Le Tour de France; right at your office door!!! Join us and have some fun.
Health + Speed = Fun
Powered by Vitess and Cleveland Clinic Canada.
When: Weekdays July 13 – July 20 between 8AM and 1PM
Where: Brookfield Place (Concourse level), 181 Bay Street, Toronto (ON)
Novice on the saddle or already a passionate cyclist? No matter – join us and have fun. Daily activity program includes:
- Daily race debriefs at 7:55AM
- Watch the Tour de France between 8AM and 1PM
- Exclusive health and cycling events
- Enter to win awesome daily giveaways
- and ENTER TO WIN YOUR VERY OWN CUSTOM VITESS!!! (details below)
- Check out the latest from Vitess, the fastest growing premium cycling brand in Canada and meet the people behind the brand. Discover some of the most recent Vitess Bespoke bicycles and understand why most are UCI-illegal
- Meet the experts at Cleveland Clinic Canada and learn from them – it's about how to turn medical knowledge into power (at the back wheel)
ENTER TO WIN your very own custom Vitess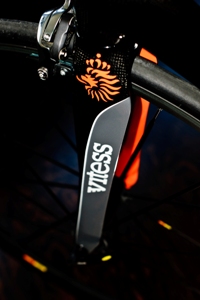 Any of your daily giveaway ballots automatically enters you into our Grand Prize draw. You can also enter this draw right here below: just enter your first name, last name and email address in the fields and click on the "Submit" button.
Our Grand Prize is a $4,520 Vitess gift certificate (incl. HST). This is your door to the world of Vitess. This gift certificate can be redeemed for a brand new custom-built Vitess. Go entry-level and you've got yourself a complementary custom Vitess; or use your prize as a little help to get this Vitess Bespoke you've been dreaming of. Either way, you'll be a proud member of our community of discerning riders. No purchase necessary. Full contest rules here.

FLAGSHIP EVENTS
When: Thursday July 12th 7:00PM onwards
Where: Evergreen Brick Works,
550 Bayview Avenue (Bayview Extension)
What: Join us for a pre-event kick-off at Lifford's Boys Night Out 2012, presented by Harry Rosen
When: Monday July 16th 12:00PM
Where: Brookfield Place (Concourse level)
What: Mini clinic: How does body flexibility affect bike set-up and performance on the bike?
When: Tuesday July 17th 5:30-7:00PM
Where: Cleveland Clinic Canada (Brookfield Place, 30th Floor)
What: Exclusive Wine & Cheese: Join us after work to relax, enjoy some exquisite wines and gourmet appetizers and learn from experts how you can up your performance on the bike. RSVP by Monday July 16th to Meegan Guest (guestm3@ccf.org or 416.507.6618).
When: Thursday July 19th 12:00PM
Where: Brookfield Place (Concourse level)
What: Mini clinic: How does nutrition affect your performance on the bike?
ENTER TO WIN awesome Daily Giveaways
One draw per day: on July 13/16/17/18/19/20. Enter as many daily draws as you wish – all you have to do is pass by before 1PM each day and hand us out your ballot. One ballot per person per day. Blank manual ballots will be available on-site, as well as at various points throughout the Downtown Core. You cannot enter to win the daily giveaway prizes via our web platform. No purchase necessary. Full contest rules here.
Here are some of the prizes…
- A BeoCom 1600 Telephone ($300), courtesy of Bang & Olufsen
- A 3-month membership at the Adelaide Club ($400), courtesy of Cambridge Group of Clubs
- A VO2 Max Metabolic Stress Test ($340), courtesy of Cleveland Clinic Canada
- A Resting (Basal) Metabolic Rate Testing ($340), courtesy of Cleveland Clinic Canada
- A Tilley Gift certificate ($200), courtesy of Adventure Center
- A Gift Basket ($200), courtesy of Lifford Wine Agency
What's after the Tour de France?
A Vitess Gran Allenamento is to cycling lifestyle what the Tour de France is to bicycle racing: the quintessential of a passion.
Join us on Sept 9th in Caledon. Click below for all the details.