Health + Speed = Fun Grand prize winner is….
24.07.12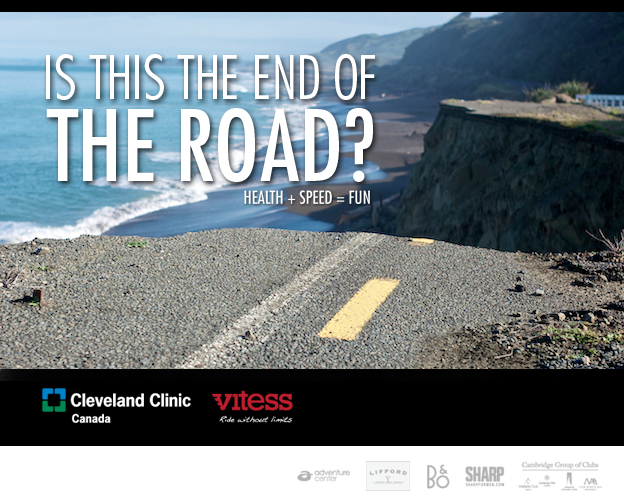 Our week-long
Health + Speed = Fun
event at Brookfield Place has come to an end… but this is only the beginning of the ride.
Your response has been overwhelmingly positive and it has fuelled our eagerness to bring you more. We've learnt a great deal through the process of hosting this event last week and we're about to push the boundaries of how Cleveland Clinic Canada and Vitess can work together to elevate your cycling experience.
It's about healthy lifestyle and helping you create a formidable riding experience. Bringing the best of cycling and health in an integrative way is at the core of our initiative and we'll spare no effort to make it fun. After all, that's what it's all about.
Our next flagship event will take place in Caledon (ON) on Sunday September 9th; it is part of our 2012 Gran Allenamento series. Be ready for the unexpected, plus more great prizes and a wonderful day of riding and après-riding, which will include our Speakers Series with a focus on sports nutrition & hydration, with the best from Cleveland Clinic Canada on-site… and you might come across our latest Vitess Rider, the winner of our Grand Prize draw!!!
Or you might be this lucky one….
Congratulations John Amodeo !!!
You've just entered the world of Vitess and we are thrilled to welcome you in our community of discerning riders. We look forward to working with you to craft your very own Vitess, which might very well end up becoming a contender for our Concours d'Elegance on September 9th.
The unique platform of knowledge and services developed by Cleveland Clinic Canada and Vitess is yours for the leveraging. It's about a set of tools that will make you faster on the bike and will greatly help you along the way of achieving long-term overall health through cycling.
Winning today was not a requirement to have access to our services. Long-term health and cycling is all about the experience and we want yours to be the best it can be. Let's take your cycling experience to the next level – whether it is a Vitess built to respond to your unique needs, a custom bicycle fitting, treatment of a chronic or recent injury or a clinical assessment of how to up your conditioning to ride longer and faster. We can help and we only are a phone call or email away.
Cleveland Clinic Canada
Maximize your performance on the bike: Let Cleveland Clinic Canada's team of sports experts help you on and off the bike. If you are struggling with a chronic or recent injury or just want to increase your endurance and energy during your ride, we can help.
Cleveland Clinic Canada
Brookfield Place
181 Bay Street (30th floor), Toronto
www.clevelandclinic.ca | 416.507.6618 | Email us
Vitess Bicycle Corporation
To really understand the difference, you need to experience the difference. From start to finish you'll be surprised at how good it can be, Book A Test-Drive! Vitess – Ride without limits!
Vitess Toronto Showroom
3399 Lakeshore Bvd West, Toronto
416.503.8987 | Email us