ACE: bounce back quickly
30.08.12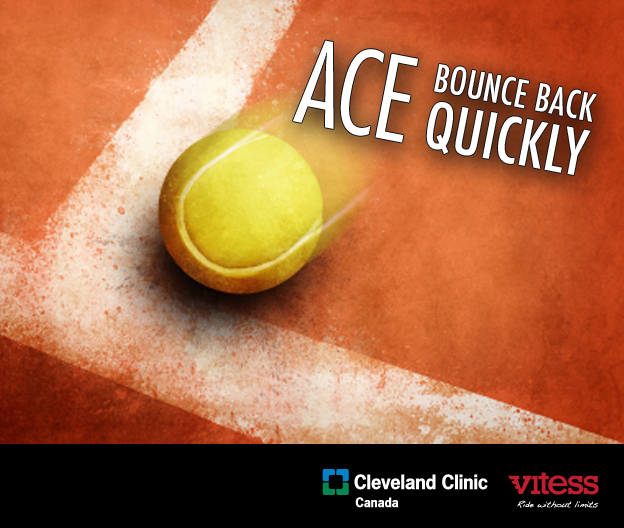 When Roger Federer or Rafael Nadal, ranking respectively #1 and #3 on the ATP World Tour, need some pre-game preparation, treatments during a change of ends or a full recovery treatment after the game, they trust the expert hands of Cleveland Clinic Canada's Luke Fuller.
On September 9th, Luke, an osteopath, included a stop in Caledon (ON) in his world tour. He'll be on site at our Gran Allenamento, ready to treat you after your ride.
Experience 1 of 10 personal treatment sessions and bounce back to full recovery.
Our guests will have complimentary access to the services of Osteopath Luke Fuller and Registered Massage Therapist Damian Ferrie, both sought-after members of Cleveland Clinic Canada's Sports Health team.
15-min personal treatment sessions will be booked at time of registration on the day, on a first-come first-served basis. If the French pastries from Bonjour Brioche and Italian espresso were not a strong enough call to wake up, this ought to be. Come early! And if you have not registered yet, we still have a few spots available. Register here.
In the mean time, continue reading to learn more about a day in the life of Luke during the ATP tour.
Editorial Piece published recently by Cleveland Clinic Canada.
Luke Fuller is an osteopath at Cleveland Clinic Canada. In addition to seeing patients at our clinic, Luke also travels the world to treat elite athletes on the ATP (Association of Tennis Players) World Tour circuit. Over the past 3 years, Luke has worked with top-seeded players like Raonic, Nadal and Federer.
For those of you who are not familiar with tennis, ATP World Tour is a men's tennis association founded in 1972 that ranks professional players according to their performance in a sequence of tournaments comprised of the ATP World Tour Masters 1000, ATP World Tour 500 Series, ATP World Tour 250 Series, the ATP Challenger Tour and the ITF (International Tennis Federation) Futures tournaments.
Osteopathy is a non-invasive manual therapy that focuses on total body health by treating and strengthening the musculoskeletal framework, which includes the joints, muscles and spine as well as the body's nervous, circulatory and lymphatic systems. Luke does not simply concentrate on treating the problem area, but uses manual techniques to balance all the systems of the body, to provide overall good health and wellbeing. He uses a broad range of gentle hands-on techniques including soft tissue stretching, deep tactile pressure, and mobilization or manipulation of joints to address the issues affecting his patients.
This summer has been a busy one for Luke, who has treated players at the Monte Carlo Rolex Masters, Wimbledon Championships, SkiStar Swedish Open and, most recently, the Rogers Cup Tennis Tournament at York University. We caught up with him between matches and asked him to give us a little insight into how he uses osteopathic medical techniques to improve players' performance.
Please describe a typical day for you at one of these events.
We treat players throughout the day to help them perform their best. For example, before a match they may need some preparation like taping or dynamic stretching. If they have any problems during a match, they can call us out to the court, where we evaluate any possible injury and decide whether or not we should ask for a medical time-out, or just treat them during a change of ends. After the match is a particularly busy time for us, as we are helping players with their recovery – stretching, assessing and treating any new injuries, giving ice baths and massage, and offering re-hydration advice, especially in these very warm weather conditions.
Why is osteopathy a great source of treatment for these athletes?
Osteopathy is a holistic form of manual medicine that recognizes the importance of good movement patterns which is critical for these athletes. Looking at the whole body, osteopaths address all parts of the musculoskeletal system including bones, joints, muscles and ligaments.
What are some of the lessons you've learned from working with professional tennis players?
In addition to shoulder, back and elbow injuries, tennis players also suffer from foot and ankle biomechanical issues. These are caused by the repetitive pounding, twisting and directions changes that the body goes through during a match. I've found that by encouraging the small bones of the foot to move better and releasing the surrounding musculature is very effective in unloading the foot and allowing the players to move at their best.
What are some differences between treating elite athletes and treating patients here at Cleveland Clinic Canada?
One difference between elite players and the amateur sporting population is their attention to the details of preparation and recovery. A healthy body is essential in order to perform at the top level, so even if those elite players don't really feel like doing a good warm-up or an extended cool-down, they do it anyway – because it is an integral part of their ability to come back and perform the next day.
I approach treatments for elite athletes exactly the same way I approach treatments for my patients at Cleveland Clinic Canada. I believe everyone, no matter what their situation, can make improvements and perform better than they did the day before. With the right treatment, good preparation and proper recovery, we can all perform at our best, whatever the sport or activity may be.