One size does not fit all… except maybe when it comes to fun
14.09.12
On Sunday September 9th 2012, over 70 guests joined us for the Caledon Gran Allenamento. Vitess and Cleveland Clinic Canada were hosting the last event of the 2012 Gran Allenamento Series at the Alton Mill Arts Centre in Caledon, an hour North-West of Toronto. Bright sun and a cool 11-degree early morning were on the program.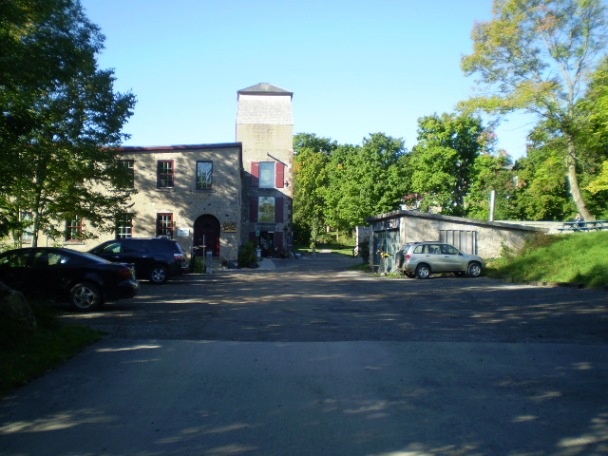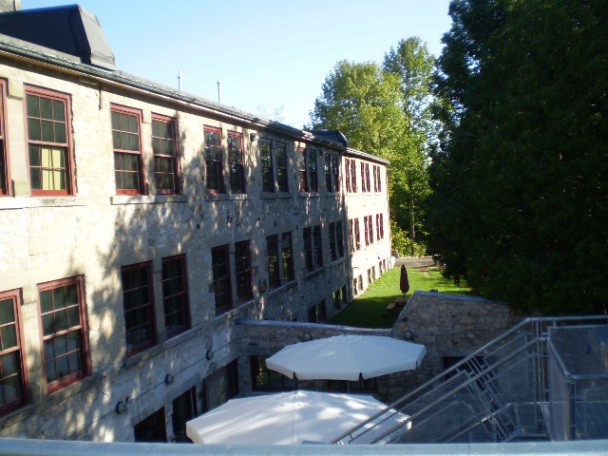 The overall theme of our series of events has been HEALTH + SPEED = FUN – this was no different for the Caledon Gran Allenamento. It's all about bringing together passion and expertise to create a unique and exciting cycling experience.
Health is about learning how to improve your performance on the saddle and recovery abilities after the ride. Speed is about the thrill of challenging yourself on the bike and feeling free of all of your day-to-day anchors and responsibilities, with just the sound of the wind surrounding you. Fun can only be achieved when you feel great about Health and Speed. But Fun is also about relaxing, getting to know like-minded riders and having a good time off-the-bike: it's all about social things.
At 7:30AM, the parking lot was already lined up with cars, coming from as far as 3 hours away… that must have been a really early wake up: a true testament to the appeal of social time!
In Caledon, we had given much time to socializing off the bike, starting with a fabulous breakfast of French delicacies from Bonjour Brioche complemented by an espresso bar. Both thoroughly enjoyed and gulped at a rate that is undoubtedly much faster than what a cow can achieve when producing the milk needed for the subtle buttery taste of those delicacies. A special thank you to Henri (see his story) – Vitess Rider and owner of Bonjour Brioche: your brioches, croissants and other finger-linking pastries were a smashing success.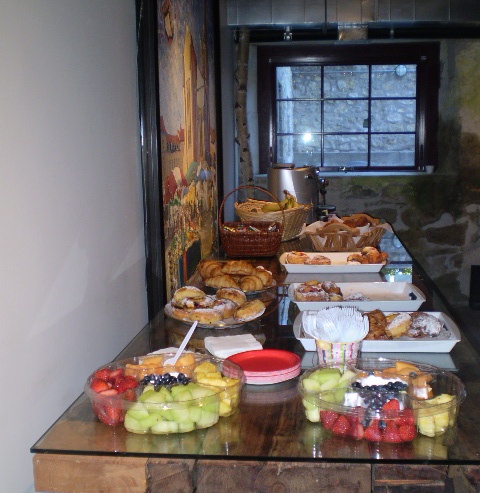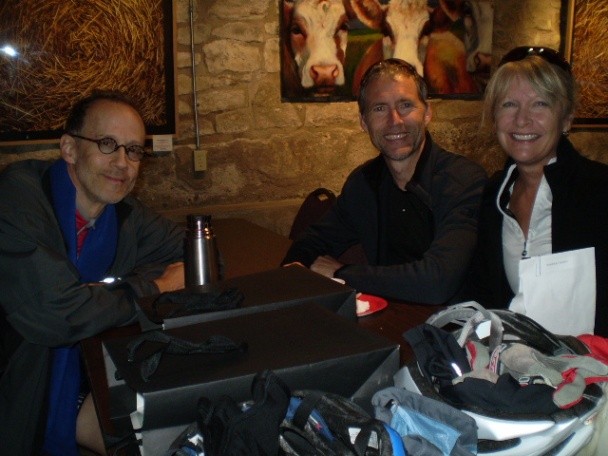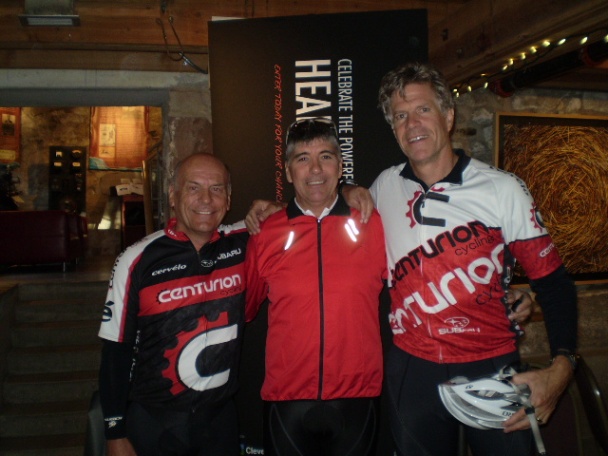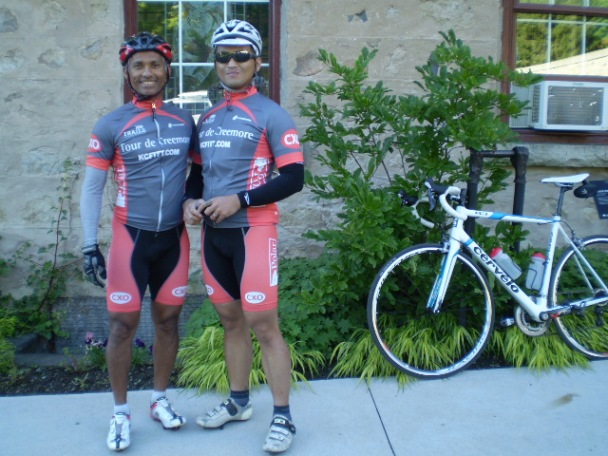 The Health part included 20 lucky participants who were invited to check-in for the first step in the creation of their personal hydration profile. Weight-in and the sacrosanct pee in a cup were completed for further clinical evaluation by the Cleveland Clinic Canada team.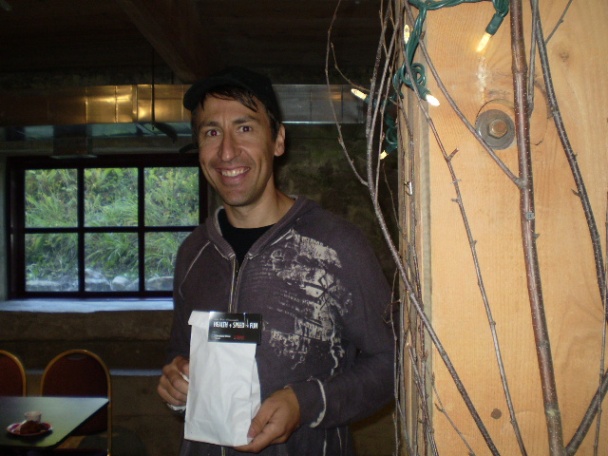 The participants really loved this level of personalization though it's important to note that 4 riders who had been selected for the test chose not to proceed with it and made sure to keep quiet about it. Next time, we'll clearly specify in the small text that this type of test is not run by the UCI and there is very little chance of being stripped of one's jersey!!
The ride start was preceded by a brief welcome note and a detailed explanation of how the initial social lap differs from the 2nd and 3rd lap. This unique ride management structure allows riders of varying levels of riding ability and experience to fully enjoy the day. There is a pace and a group of people to ride with for everyone. The last few minutes of pre-ride time were allocated to the rules of the road and other safety remainders.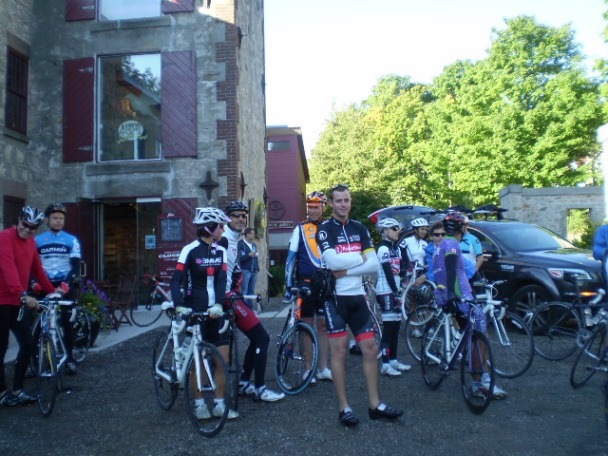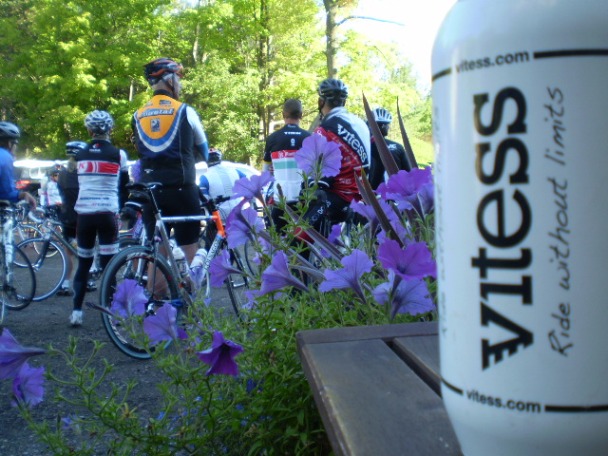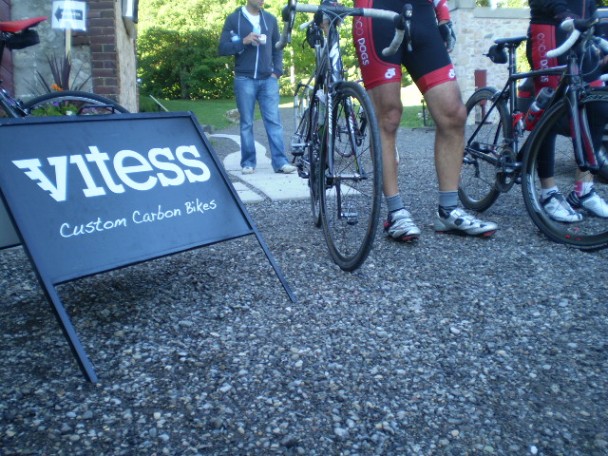 A special congratulation to our 2 flat-pedal'ers of the day… although both are well accomplished athletes – respectively hockey and running enthusiasts, this was the first time on a road bicycle for Dr. Tim Rindlisbacher (Director of Sports Health at Cleveland Clinic Canada) and the 2nd time for Mike Kessel (President & CEO at Cleveland Clinic Canada).
Creating a platform for novice riders to get a taste of what cycling is all about has been one of the mandates of Vitess. We could not be more proud to count a great number of aspiring cyclists who have used Vitess as their go-to resource to saddle up and get exposed to the benefits and fun of cycling. So kudos to our flat pedal'ers!!!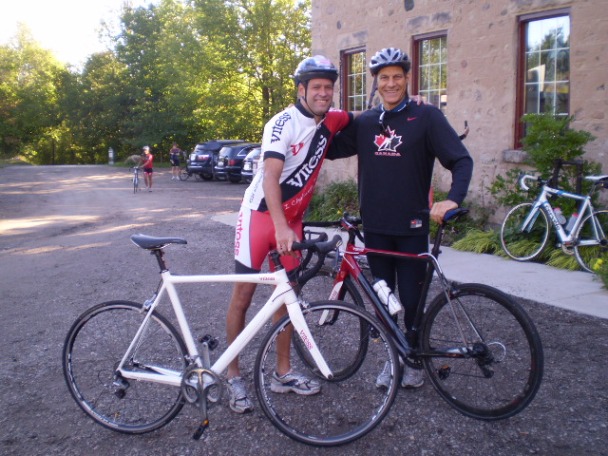 At 8:40AM sharp, the Speed part began. An awesome group of riders took the road, guided by 5 ride leaders and followed by a broom vehicle. As its name indicates, the social lap is about social things – mingle with old friends, make new ones, swap riding buddies, share cycling stories, explore common interests and dream new adventures. After an hour of social pace, it was time for us to turn warm-up and social talks into performance and challenge.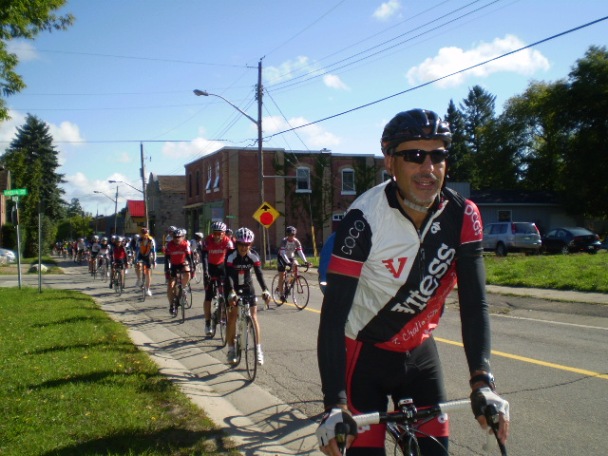 The course of 31 km was designed to incorporate a succession of fast-rolling flats, leg-hurting rolling hills, a few steep ascents and rewarding descents. For the 2nd and 3rd laps, riders were invited to join pace groups – 3 to begin with (25-28km/h), (28-33km/h) and race pace. The first two split into 2 sub-groups mid-ride, leading to 5 different groups being formed. The objective in this situation is to achieve group cohesion, not to stick to a given pace. It is the ride leader's role to make sure that the weakest group members are protected and the strongest ones are leveraged – a true team effort.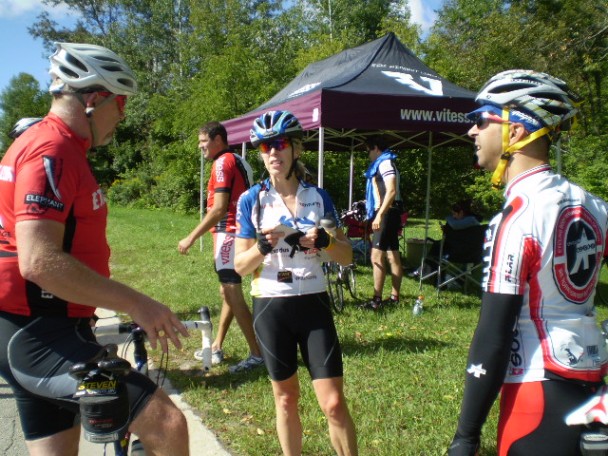 While most were having a great amount of fun on the bike, others were hard at work. Who said it is easy to run an off-site clinical test??!!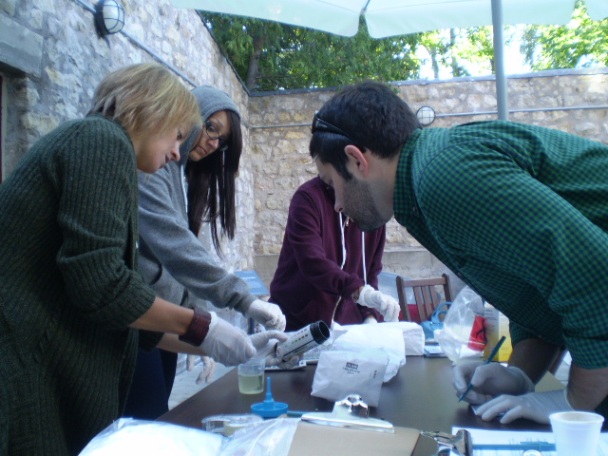 After the ride, guests were invited to join a group yoga session facilitated by Vitess Rider Licia Maccario, who also runs Oakville-based yoga studio Youga: Yoga for you.
15-min sessions of massage and osteopathic treatments were brought to the group by the Sports Health team at Cleveland Clinic Canada. Luke Fuller (see his story) and Damian Ferrie were on site with their unique expertises and magical hands for the delight of our guests.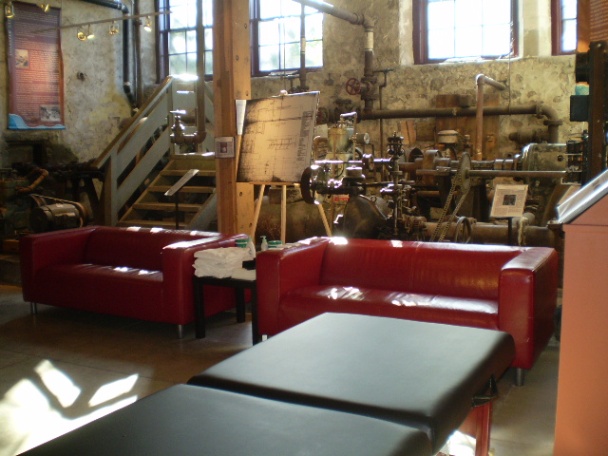 Then at noon, what everybody had been waiting for started: our aperitif – well stocked in delicious hors d'oeuvres and absolutely fabulous wines (here they are!), courtesy of our friends at Lifford Wine Agency.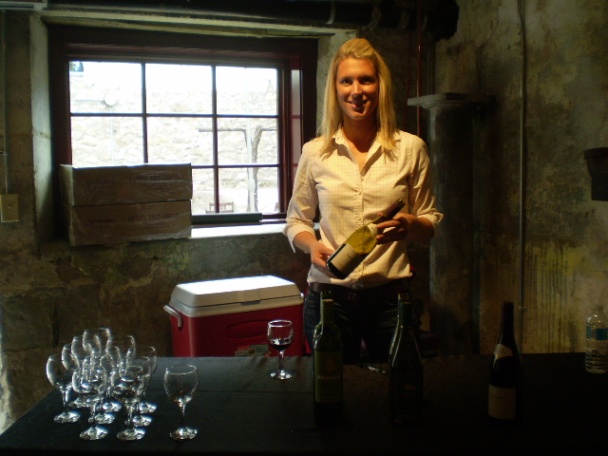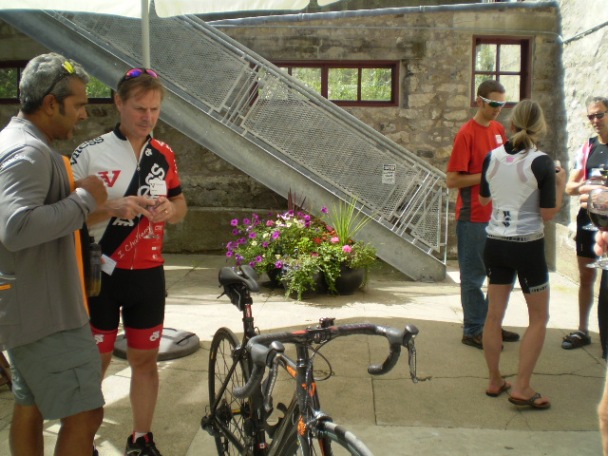 Lunch was later served – some complaining that we might have mixed up our numbers and filled up the buffet for an army… well that might be the case, but it was not typical army food: we have 70 people to attest to this!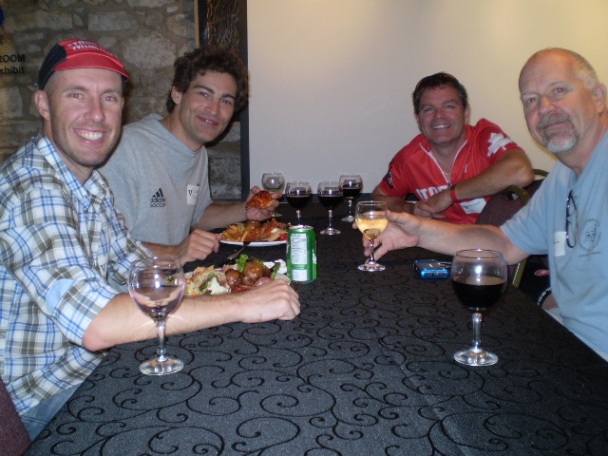 The après-ride's flagship presentation was conducted by Cleveland Clinic Canada's sports dietitian Nicole Springle: an extremely well documented and fantastically delivered talk on hydration. The captive audience was engaged and the pre, during and post ride hydration requirements were reviewed amongst a host of other topics.
The conclusion was clear: one size does not fit all. Body requirements need to be assessed and personalized plans need to be structured to optimize performance. This is no different than what Vitess does every day with our riders – one unique rider = one unique Vitess = one unique hydration plan.
Some of those riders who had their personal hydration profile in hand got to understand that perhaps they should be doing more than just wetting their lips with liquid!! No need to point out fingers… but well let's just say that the person who was running world-renown IMAX Corporation should be taking his drinking more seriously…
The second part of the après-ride talks was dedicated to the feedback from Ontario Provincial Time-Trial Champion Cheryl Rondeau. Cheryl was the lucky winner of our Oakville Gran Allenamento contest in June 2012 and thus the first individual to test the new Cycling Performance Program that Vitess and Cleveland Clinic Canada have been working on – weaving the best of cycling and health expertises in a package to improve performance.
One of the door prizes of the day led a rider to win the opportunity of being the person to test the second phase of our product development. Once again, this will take place on the 30th floor of one of Toronto's highest and finest building – within the premises of Cleveland Clinic Canada at Brookfield Place, right Downtown Toronto. No better place to kick-start a ramp-up in performance. Stay tuned for more updates on this world-first offering!
The President & CEO of a large solar panel manufacturer was the lucky winner of a night at Hotel Le Germain Maple Leaf Square. Of course, one had to ask him who would be his guest of choice – knowing full well that his spouse was sitting beside him… so not much of a choice after all….!!!
And it was noted that at least one rider fell asleep in the car while going back home – to make it clear he was not driving – so kudos to him for putting so much effort on the bike! Or was it off the bike!? Mingling at an aperitif is exhausting. In any case, the actual cause will remain a matter of debate. One thing is not: the billion or so that he's managing on his day job will not be impacted a single iota.
To each one of our guests there is a memorable story. After all that is what a great experience is about. To our 2013 Gran Allenamento Series!!
Want to pre-register for our 2013 season? Send us an email at concierge@vitess.com.
A big thank you to our co-host and friends at Cleveland Clinic Canada as well as to our corporate partners for supporting our Gran Allenamento series of events, which has become in a short 2 years the absolute benchmark when it comes to celebrating cycling as a lifestyle.
Bang & Olufsen, Hotel Le Germain, Adventure Center, PEO, Cambridge Group of Clubs, Alpine Ontario, SHARP Magazine, Lifford Wine Agency