Taking delivery
13.03.13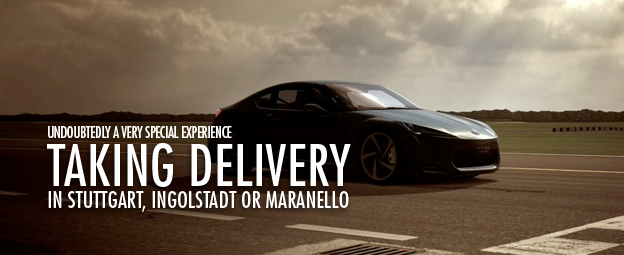 Taking delivery of your new sports car in Stuttgart, Ingolstadt or Maranello is undoubtedly a very special experience. You get to learn more about how your vehicle is made, and in some cases actually test its limits, whether it is on a race track or the autobahn.
Building upon this immersive automotive experience, we have been testing a program of delivery in Toronto for the last year or so. The goal of the program is clear: make the Delivery Day of your Vitess truly special and memorable. From building your bespoke bicycle from scratch to micro-adjusting its set-up to achieve perfect fit, it is a learning experience.
Dr. Mark Teeple, Optometrist and Principal at Arkona Eye Care in Arkona (ON) just test-drove this program and as he admits himself he was "unprepared for the depth of the experience".
By Mark Teeple
Arkona (ON), 13-March-2013
Cyclists are familiar with those moments of pure joy, like when you turn downwind and upshift, feeling the chain smoothly climb onto your large chain ring. And, those moments of deep satisfaction, like finishing your first century ride. Let me tell you how I experienced those two sensations in one day just looking at a bike.
As a passionate, but strictly recreational cyclist, I had been following Vitess for several years. I welcomed the fascinating distractions that would arrive in my inbox periodically with the inevitable links to the Vitess web site, where I could see my passion about cycling and bikes reflected back to me. It was after participating in the Caledon Gran Allenamento, (a characteristically first-rate Vitess event) that I began to seriously consider a Vitess for my next bike.
My initial consultation with Julien Papon was impressive. Being a health professional, I am familiar with importance of a careful "case history". Julien's history was exhaustive; the ergonomic measurements were far more complete than I had anticipated, and the time spent bike fitting was methodical and focussed. After that first 4 hour session, the basics of the size, components, and visuals were established. Now the real anticipation began!
I was fortunate enough to experience the "build & fit & learn" in the new Maison Vitess, a truly impressive space. From the organic hues of wood and tile, to the natural light sources, to the tasteful furnishings, the aesthetic is entirely consistent with the Vitess brand. But, I was unprepared for the depth of the experience. From the moment Julien presented "my frame" – the only one in the world in that size with those colours and visual details I knew that this would always be a very special bike to me – as memorable as my first: a 1967 "Centennial Edition Supercycle". During the next 2 hours we actually assembled my bike, with Julien explaining the engineering of various components and sharing maintenance tips along the way. I had never imagined that I would be able to put a bike together, but with Julien's guidance and tools, it seemed easy!
Then, back into riding gear for more time spent perfecting and explaining the fit, both off and on the bike: assessing foot position, measuring range of motion of hips and knees; handlebar width, stem height and length all methodically established and then refined with on-the-bike assessment. Each measurement and adjustment was explained and related to cycling efficiency and performance. There was no doubt about the "learn" part of build & fit & learn!
Another short wait for painting the seat post, bar and stem. (Thankfully, this waiting occurred during the winter!) Finally the anticipated day arrived when that creation became my Vitess.
Pure joy and deep satisfaction – to be re-experienced every time I go for a ride…
Note – a typical Delivery Day schedule would look like this:
8:30am
Welcome – Espresso & pastries
9:00am – 12:00
Build & Learn: review of drive train components, frame-set design and carbon processing techniques; engineering explanation of component functions, design requirements; hands-on step-by-step build of your Vitess: from frame-set to complete bike – including proper assembly modes, torques, greasing & lubes, power-train fine adjustments, ground interface build, maintenance tips, etc
12:00 – 1:00pm
Lunch
1:00pm – 4:00pm
Delivery Day Fit & Learn: final part of our pre-delivery fitting process – review of initial physiological data and comparison with today's body condition, micro adjustment of all body / bike interface points to achieve delivery day perfect fit.
4:00pm – 6:00pm
Test-Drive with some of the people behind the Vitess brand – weather allowing.
When riders come from out of town, hotel arrangement, transportation and other concierge services are offered – to make it a truly memorable weekend.