My Vitess, Sissi
15.11.13

Each Vitess Bespoke bicycle tells a story; one that is sometimes self-explanatory, but most often full of personal meaning that is as utterly profound as it is subtle.
Enikö Kassum's Vitess, Sissi, was named after Elisabeth Amalie Eugenie, Empress of Austria and Queen of Hungary.
Here is Enikö's story.
Written by Enikö Kassum
Toronto, November 2013
When my husband came home from a cycling event and, in an electrifyingly excited mode, shared his thoughts about ordering a bespoke road bike from Vitess, I smiled and with a puzzled look on my face I asked him "Vitess? Who are they?".
He was very enthusiastic about the idea of acquiring a new bicycle that would be crafted to fit his unique body measurements and to reflect his personality through design and art.
From carte blanche to a two-wheel gem, the whole process was a real adventure for him, the science of body geometry fit, researching the market and browsing for the right components ("…it has to be lightweight Honey!…"), choosing the colours, brainstorming about the creative artwork, helping to design the artwork, re-designing the artwork, back to the colours, onto the artwork, tick-tock, tick-tock….(the time of mysterious anticipation walking one down on memory lane of nights before Christmas, paved with exciting hope crystals wondering about sparkles of surprises under the tree)….followed by the estimated time of arrival notice of his Haute-Couture road wonder, and the grease monkey-hands on, do it yourself/understand your bike sessions – a.k.a. Vitess' "Build & Learn" and "Fit & Learn" sessions.
As you might wonder how I can describe so vividly all these steps and emotions so thoroughly, I can proudly confess that my husband and I are Vitess couple #5.
Yes, there is such term as "Vitess couple". Just like there is Vitess Social Club within Maison Vitess, there are Vitess rides, Vitess VIP passes to Vitess events called Gran Allenamento Series, Vitess bike handling and skills event, Vitess flexibility event, Vitess hydration and nutrition event, and I had just RSVP'ed to Women- only Yoga Social at Maison Vitess, meanwhile my husband will attend a Vitess Man-only Scotch tasting event.
A group of cyclists getting together and paying homage to the gods of Road Bike Riders with great rides, smart thoughts and ideas, good food and wine. Sounds like a bicycle brand associated with a club from the heart of the Alps, however we have all this right in our backyard here in Toronto ("O, Canada! Our home and native land!…")
My Vitess, Sissi (yes, I do name my bikes) was named after Elizabeth Amalie Eugenie, Empress of Austria, Queen of Hungary. Sissi, was awed by the beauty of the mountains where she had grown up, the great, welcoming, pine kissed embrace of the Alps. I chose edelweiss, the flower, to pay homage to the Carpathian Mountains where I grew up. I'm not even sure which muse embraced me first, the mountains, Sissi, or the ever so inviting, always waving, pure, little edelweiss.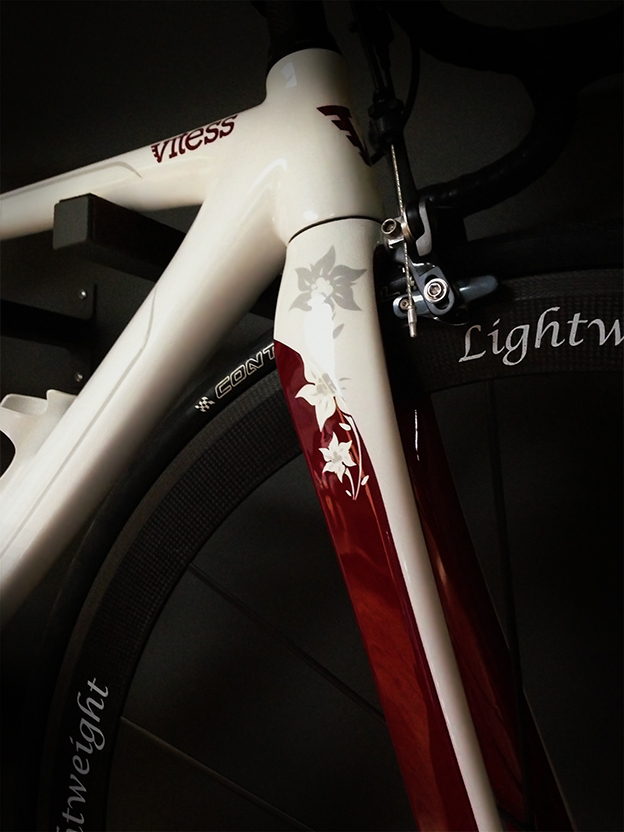 Not only my Vitess, Sissi, fits my body like a glove, it rides as smoothly as a wind-kissed sailboat. She is a piece of art intertwined with engineering, a master composition of finely tuned components and hand-painted decorative design, a two-wheeled dreamscape, created by the professionals at Vitess and yours truly.
When one is ready to embark on this creative adventure, the limitations are only created by your own imagination; the choices are endless. But the process that Vitess has created to guide you along this journey makes the experience feel easy and smooth. The only decision to be made is in which direction "to ride".
And I almost forgot… here's my lion… well, my husband Zool's lion that is.