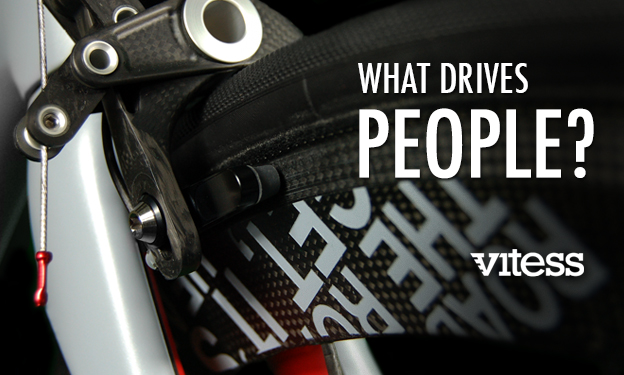 At a recent event, a group of riders were discussing what drives people to acquire a Vitess. Someone referred to Patek Philippe's
Generations
campaign: "you never actually own one; you merely take care of it for the next generation".
Although this was an interesting reference and while we have no doubt Vitess Riders care tremendously about their kids, our data suggests that the actual purchasing decision is a lot more grounded in the present – themselves.

70% of the time, a Vitess is acquired to celebrate a special milestone in one's life – birthday, wedding anniversary, health recovery, promotion, retirement, business sale, or even participating in a special cycling project or event. Orders are almost evenly spread out over each calendar year.

50% of people acquiring a Vitess had never ridden a road bike before coming to us. In fact 80% of them were not riding 3 years ago.

80% of riders acquiring a Vitess first heard of the brand from, or were directly referred by a Vitess Rider.

Ordering a Vitess is usually not about "buying a bike in preparation for the summer season": it's about celebrating a very special moment with a very unique present.

Half of the time, the purchase coincides with one experiencing something new. Prior cycling exposure is not a primary driver, but the "Piece of Mind" factor inherently embedded in our made-to-order process certainly seems to be one.

The Vitess experience, on and off the saddle, seems to be worthy of telling other people about it.

As interestingly, our data suggests that there is no direct correlation between monetary value of the Vitess and the length of its owner's past cycling experience.


Related

Discover our Collection Series: Made-to-Order, from $4,999.

Discover Vitess Bespoke: sublime performance or work of art?

Here is a selection of short personal stories about a few Vitess Riders and how their Vitess turned out.

Vitess Rider Tim Hockey is the President and CEO of TD Canada Trust and the Head of Canadian Banking, Auto Finance and Wealth Management for TD Bank Group. Over the years, he has been the driving force behind a number of philanthropic endeavours. Recent efforts include him taking the role of Chairman for the $200M Hospital for Sick Children's Research and Learning Tower fundraising campaign (Toronto, ON), and being the key catalyst behind the $56M Mattamy National Cycling Centre (Milton, ON). For Tim, cycling is much more than a conduit to staying fit and feeling good; it is a mean to doing good as well. [... Read Tim's story].

Whether he likes it or not, Vitess Rider John Moore spends a good chunk of his time seated: in front of the mic hosting Toronto's leading morning radio show on Newstalk1010, or in front of his computer, writing away for the National Post. But the seated position is actually one that he thoroughly enjoys in his free time, on a bicycle saddle that is. He particularly cherishes his weekly outings with Toronto's Trailblazers Riding Club, an organization helping visually impaired people experience the thrill of cycling. Flying Blind: this is John's perspective on being a "captain". [... Read John's story].

You probably came across one of the many columns that Vitess Rider Peter Hodson wrote for the Financial Post. Or maybe you watched an interview of him on Canada's business news network BNN. But neither a national newspaper nor a business TV channel would have been appropriate to publish this exclusive piece. Pro cycling, stocks: same thing… they have it all. "I like to bike, but my working career has been spent (30 years now) picking stocks. One day, during this long, long winter that never seemed to end, I was sitting doing endless miles on my indoor trainer, thinking about cycling, bike teams and stocks. After about an hour of riding [... Read Peter's story].

To say that Vitess Rider Carlos del Junco plays harmonica is like saying "Jimi Hendrix plays guitar". Carlos, a two-time Juno Awards nominee, won two Gold Medals from the Hohner World Harmonica Championship in Trossingen, Germany, and he has been the Harmonica Player of the Year eight times out of the Canadian Maple Blues Award's fifteen year history. In the awards story book, Carlos is simply one of the very best in the world. Simultaneously sophisticated and raw, his playing blurs the boundaries between blues and jazz. With 8 albums and countless live performances throughout Canada and the USA, Carlos has grown a massive fan base. His next performance will be a night of virtuosic playing featuring [... Read Carlos's story].

Each Vitess Bespoke bicycle tells a story; one that is sometimes self-explanatory, but most often full of personal meaning that is as utterly profound as it is subtle. Enikö Kassum's Vitess, Sissi, was named after Elisabeth Amalie Eugenie, Empress of Austria and Queen of Hungary. "When my husband came home from a cycling event and, in an electrifyingly excited mode, shared his thoughts about ordering a bespoke road bike from Vitess, I smiled and with a puzzled look on my face I asked him "Vitess? Who are they?". He was very enthusiastic about the idea of acquiring a new bicycle that would be crafted to fit his unique body measurements and [... Read Enikö & Zool's story].

When a local newspaper reported on Bonjour Brioche almost 15 years ago they suggested that "it's a cherished myth that no French person will live further than a short bike ride away from a decent bakery". Vitess Rider Henri Feasson, a French pastry Chef by trade, and his wife Laurie – owners of Bonjour Brioche, turned a myth into reality and an idea into a huge success. How successful? The lining-up around the block for buttery French pastry fix, delicious quiches, warm baguettes and many other French delicacies – even on a slushy winter morning, is testament to the quasi-magical things happening in [... Read Henri's story].

Vitess Rider Paolo Maccario came to us for a pre-50th birthday gift to himself. A year later, he approached us and asked for our help. He said that his "beautiful bride" deserved something very special for having put up with him for 25 years of marriage (can't recall exactly what he had said, but that's close enough…). An Italian or French handbag or a diamond-encrusted Swiss watch would have made for a nice wedding anniversary gift. But it lacked the experiential element and the shared passion – opening a beautiful gift box is always very rewarding, but in the end [... Read Paolo & Licia's story].

In last Saturday's Toronto Star, Vitess Rider Denis Cyr openly admitted to his readers doing 93km/h in a 50km/h-zone. This created a bit of a stir: some even suggesting the need for speed limiters. We would like to address this issue. Although some German brands have generally agreed to the implementation of a 250 km/h speed limiter on their vehicles; many of their high-performance models have been exempted – look no further than Quattro GmbH or AMG. Other brands such as Porsche, Ferrari, Lamborghini and Aston Martin have also decided not to join the 250 km/h club; many of their cars go well beyond the 300km/h barrier. Ultra-high performance car makers such as Bugatti or Pagani have road-legal models whose top speed comes close to [... Read Denis's story].

Vitess Rider Mel Thompson's daughter Lindsay was diagnosed with Schizophrenia at age 16. For the following 13 years, Mel and his family kept very quiet about the mental health problem that Lindsay was experiencing. They did not feel comfortable talking about it. Mel was concerned that the situation might negatively impact his high-powered career; that people might think of him and his family differently. Then, one evening in 2009, things changed. Sitting around the kitchen table, the family decided that telling people about their experience might help others. They decided to take the road and spread their message. Over the course of 100 days [... Read Mel's story].

Although Vitess Rider Barry Green is hooked, he is not in the fishing business and this post has in fact very little to do with actual fishes, the hook is there though. Barry is well set above water. He runs one of the most successful produce distributors in Canada: Richard E. Ryan & Associates Limited. What you eat from the produce shelves of your local supermarket, there is a good chance he and his team sourced it. From berries, tree fruits, vegetables to oriental fruits: that's his game and he's very good at it. He's a perfectionist. We can attest to that. But that's okay, because we are too. And his Vitess is an expression of [... Read Barry's story].

Although there is nothing truly complicated about riding a bicycle, today's cycling culture can be a bit intimidating at times, especially for novice riders. Vitess Rider Cormac Monaghan was no different than most people contemplating cycling as part of their active lifestyle. Busy at home with young children, busy at work as VP of Finance of eOne Films Canada and President of the Ireland-Canada Chamber of Commerce, for him it has been about the search for a more balanced lifestyle. Here is his cycling journey of the last 9-months: from purchasing an entry-level bicycle that he never really used, to joining two of our Gran Allenamentos on a demo Vitess, to becoming a Vitess Rider and [... Read Cormac's story].

A non-compete clause in an employment contract can be burdensome at times; lawyers are good at making those things very restrictive. Nobody knows that better than Vitess Rider Lana Driscoll: she has been hiring some of the best lawyers in the country for the last 10 years. When faced with the situation herself, she did what highly-driven people do: jump on the opportunity and make it happen – whatever it takes; in her case, a journey around the world. With her Vitess being delivered the day before she took her Europe-bound plane, she did not have much opportunity to test it on Ontario terrain, but the breathtaking rides that she later took certainly gave her a good sense of what it feels like to ride Vitess. From Toronto, to London, Dublin, Cork, Paris, Sydney and back; here is her journey [... Read Lana's story].

In today's materialistic society, most products are mere commodities and purchasing decisions are made in the blink of an eye. Walk in, get a decent deal, swipe a card, go home with the product in hand and figure out how it works. For Audaxium Founder and Vitess Rider Rob MacEwen to saddle up on his very own Vitess, it took 3 years. For him, it has been about a journey and a very special bond with a brand that he embodies so well, on and off the bike. "When I first walked through the doors of Vitess it was simple curiosity. A new "Bike Shop" opening up in my neighbourhood was a bit of a surprise. That and the bike I saw through the window looked completely amazing. Everyone knows, by now, that Vitess operates far beyond what is considered normal in the cycling industry. It's no "shop". [... Read Rob's story].

Former Canadian professional cyclist and Canadian Cycling Association Board Member Steve Rover is as passionate as it comes. Whether that is in a board meeting at the CCA, running his beloved Lac-Megantic (QC) Canadian Tire store or on the saddle of his Vitess, Steve sees and wants big – and he gets it. Here is the story of a world-class athlete turned successful business and well-regarded community leader. When he turned to Vitess, he wanted a top-notch custom road bike. What he got is something very special – a very clear and visual expression of two of his passions: cycling and entrepreneurship. From pro-athlete to businessman, the reconversion is not always easy and straight forward. In the case of Steve, entrepreneurial drive and over-achievement is deeply rooted in his genes. [... Read Steve's story].

Taking delivery of your new sports car in Stuttgart, Ingolstadt or Maranello is undoubtedly a very special experience. You get to learn more about how your vehicle is made, and in some cases actually test its limits, whether it is on a race track or the autobahn. Building upon this immersive automotive experience, we have been testing a program of delivery in Toronto for the last year or so. The goal of the program is clear: make the Delivery Day of your Vitess truly special and memorable. From building your bespoke bicycle from scratch to micro-adjusting its set-up to achieve perfect fit, it is a learning experience. Vitess Rider Mark Teeple reports. [... Read Mark's story].

When Vitess Rider Emily Heath took one of the 2 qualifying spots in her age category for the 2013 World Triathlon Championship back in 2012 at the Toronto Triathlon Festival, she knew that hard training and immense time commitment would be standard fare. But as lightning strikes in unexpected ways, her journey was everything but free of unplanned challenges – from injuries to a bike crash 2 weeks before the big race. Resilience in the face of adversity and a formidable drive and commitment to succeed got her to be watched by the Eye of London last September. Emily's story is a spectacular example of what's possible when [... Read Emily's story].

Riding is supposed to be fun. Being in pain and experiencing discomfort is not fun; not being able to perform at your best is frustrating. So why should all that be part of your ride? Fitting is omnipresent in alpine-skiing and golfing. Track day enthusiasts know that proper seating position greatly impacts fatigue level, safety and of course lap time. Rally car drivers spend hours refining theirs to make sure that they become one with their cars. In each case, it's not about the equipment… it's about the person; about you and your specific needs, and how to best fulfil them. In the case of Vitess Rider Sajid Syed, the pain level on the saddle was such that he was ready to "walk away from the sport for good". Getting properly fitted was time well spent. [... Read Sajid's story].

While Vitess Rider Ian Lightstone's chemistry expertise might not equal Franz Greiter's – widely known to have invented the first effective sunscreen in 1938, he is certainly one of the world's foremost experts when it comes to understanding and protecting your brand from inappropriate online advertising exposure and embarrassment. Ian co-founded and grew one of North-America's largest market research firms Thompson Lightstone & Company before selling it to Maritz in 1998. With his latest venture Project Sunblock, he is protecting the brands of many Fortune 500 companies across the globe. [... Read Ian's story].