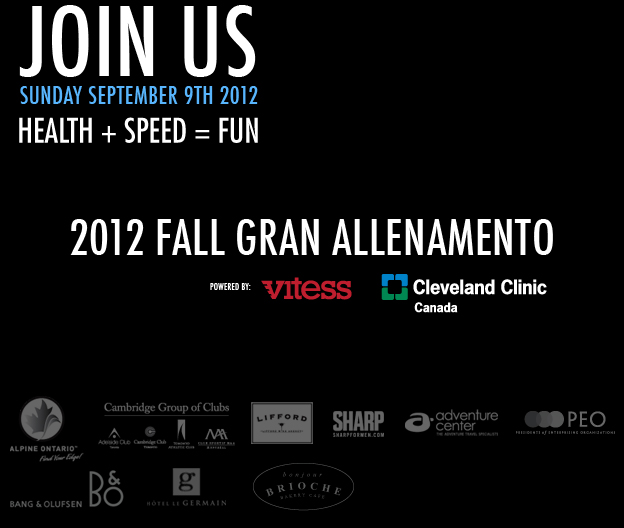 The Gran Allenamento Series is about passionate cyclists coming together to celebrate cycling as a lifestyle. We learn, share, motivate, support, challenge oneself and each others and most importantly: we have fun, on and off the bike. But there is no racing. After the ride, we eat, celebrate the ride, plan our next performance and enjoy the company of like-minded riders.
The historic Alton Mill is in the heart of the Village of Alton, nestled in the rolling hills of Caledon, Ontario. This is the perfect setting for the final instalment of our 2012 Gran Allenamento series: the quintessential cycling lifestyle event.
Have a blast cycling through some of the best terrain in Ontario and enjoy a social aperitif, gourmet lunch, spectacular wines, fabulous prizes and a fantastic social atmosphere that will make for a memorable après-ride. To elevate your experience, we've partnered with the best. Each one of our partners fits a unique piece in our lifestyle puzzle. We work with them to create an absolutely unique experience that we know you will thoroughly enjoy.
Whether you are an aspiring, novice or experienced rider, an awesome cycling experience is driven by how your body performs through effort and recovery. Vitess and Cleveland Clinic Canada have joined forces to infuse our events with world class clinical knowledge that will help you take your ride to the next level.
In Caledon, it will be all about hydrating for performance. Learn first-hand what your body requires to perform at its best. Cleveland Clinic Canada sports dietitian, Nicole Springle and her team will be on hand to explain how you can use hydration to maximize your performance on and off the bike. Also, the first 20 riders to register will receive a personalized hydration profile which will include on-site clinical testing to assess their current hydration levels, the amount of fluids their body needs during and after the ride and their personal sweat rate. If during or after a ride you have ever felt physically exhausted or experienced muscle cramps, this will be an invaluable experience.
Please note that although our events are invitation-only, we allocate spots for the cycling community at-large and we invite you to take advantage of them. You do not need to be a Vitess Rider to attend.
Date: Sunday September 9th 2012
Venue: Alton Mill Art Centre, 1402 Queen Street West, Village of Alton, Caledon, Ontario, L7K 0C3
Registration: 7:30-8:30AM
Ride Start: 8:40AM
Distance: 28 kms per loop – your choice of one, two or three loops
Terrain: Rolling hills
Pace: All riding abilities welcome. Social pace for first loop (no drop policy, 25km/h max), 4 different pace groups for 2nd and 3rd loop: you pick your pace
Full support: Pace setters, marshals, broom vehicle, expert ride leaders in each pace group, technical support, hydration and nutrition and first-aid on-site
More: hydration testing, sports nutrition expertise, massage therapy, osteopathic treatments and yoga.
Breakfast: During registration enjoy an espresso bar, fresh fruits and French pastries by Bonjour Brioche
Après-ride: yoga-inspired stretching class, 15-min personal massage and osteopathic sessions, gourmet lunch and wine tasting, door prize draws, Speakers Series: focus on hydrating for performance. If you want to fully enjoy the après-ride, please count on being on-site until at least 2-2:30PM
Registration: Space limited – first-come first-served basis. Registration will close on Wednesday September 5th at 6:00PM. No on-site registration.
Click on the banner below to register today.

Did you know that participating in one of our Gran Allenamentos automatically enters you for our 2012 Grand Prize? Here are the details.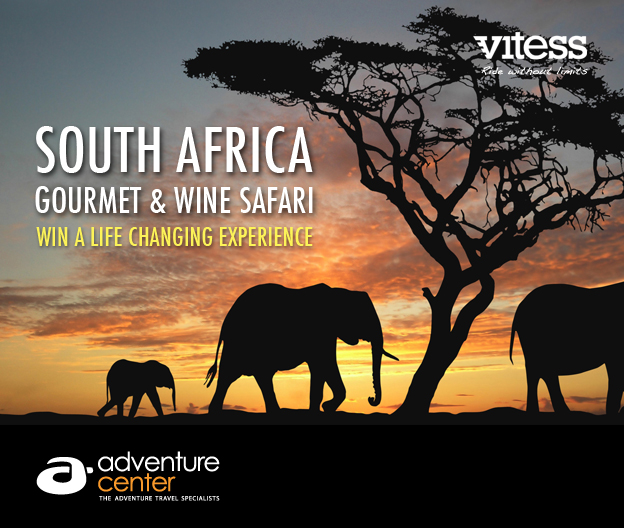 Adventure Center – the Adventure Travel Specialists.
How about champagne-sipping at Mount Nelson, a gourmet dinner at Le Quartier Français, a cooking course at Cape Malay, wine tasting in the vineyards of Stellenbosch or just explore the stunning sights and epic South-African scenery? Those are some of the activities that await you as well as a journey through the rugged Bushveld of Kruger National Park.
The riding and après-ride come standard with a Gran Allenamento. The $10,000 South Africa Gourmet & Wine Safari for 2 people might, as well; provided that a bit of luck is with you.
We are absolutely thrilled to call North America's premier small-group, adventure specialist Adventure Center one of our lifestyle partners for 2012. Crafting life-changing experiences has been their raison d'être for more 40 years. So when we designed our 2012 Gran Allenamento Grand Prizes Draw, they were the go-to people when it comes to adventure travel.
2011 Media reviews and reports
Canadian Cyclist: review of our October 2011 Alton Mill Gran Allenamento – "The [...] Gran Allenamento series is an extension [of Vitess: high personal touch]."
October 2011 Alton Mill Gran Allenamento – "Great friends, great location, great food"
September 2011 Holland Marsh Gran Allenamento – "Stayed true to the Vitess Brand Experience!"
July 2011 Oakville Gran Allenamento – "How many calories in that burger?"
June 2011 Inaugural Gran Allenamento – "Open roads + 40 riders + a winery = lots of fun"